Spinach with Baby Abalone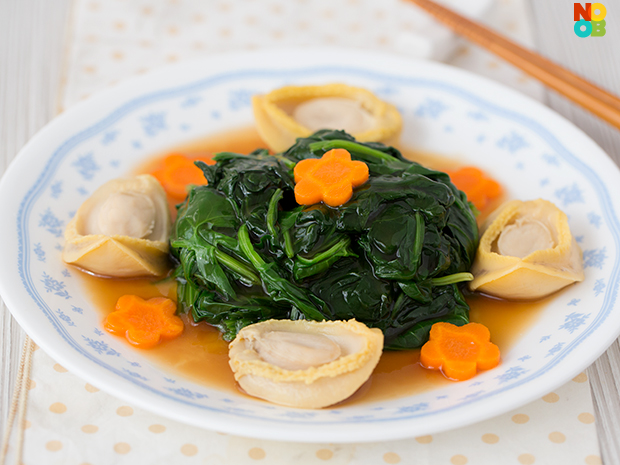 This is a 20-minute recipe for Chinese-style spinach with baby abalone. During Chinese New Year, I added canned baby abalones to spinach to make it a festive dish. Abalone is not a must in this recipe though. Since I cook this dish all year round, I usually serve the spinach with carrots, broccoli, or just on its own. The abalone can also be substituted with the more affordable canned pacific/razor clams or limpets.
See Also:
The spinach used is "phuay (puay) leng" (pictured above), where the leaves resemble western baby spinach (but at a fraction of the price). Simply cut the stems to shorter lengths and they are ready for use.  After cooking, both the leaves and stems are softly tender. The ease of preparation makes it my choice spinach to cook with these days. This recipe will work with local sharp or round spinach too, but you need to snap the stems to shorter lengths, pulling to discard the "strings" before cooking (to remove the woody texture of the stems).