Baby Abalone Ee-Fu Noodles
Happy Niu 牛 Year! Wishing everyone a prosperous and healthy Year of the Ox. Every year during Chinese New Year (CNY), I make and feature a different version of ee-fu noodles, so this has somewhat become a happy blog tradition :) This plate of baby abalone ee-fu noodles is cooked with baby abalones, button mushrooms, yellow chives, broccoli, asparagus and carrot. Simple, sumptuous and satisfying! They can be served as longevity noodles (长寿面) during family gatherings and birthdays outside of CNY too.
I love making ee-fu noodles during CNY because they are easy and perfect for clearing the leftover veggies after hotpot. This particular version is a great use for canned ready-to-eat baby abalones that people add to "yu-sheng" during the festive season. They are also perfect as a one-dish meal or a shared side dish.
Similar Recipe:
See Also: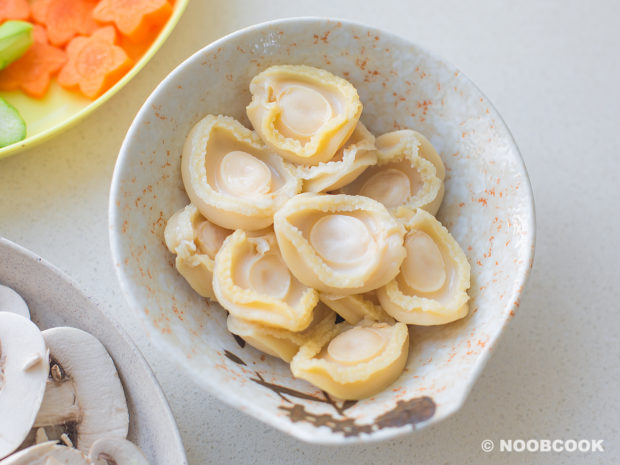 For this recipe, I used one can of baby abalones. I don't go for those expensive premium brands (they are good to me as long as they look clean). Such abalones usually cost under S$20 per can which suits my budget. So this CNY recipe is really affordable yet presentable for the festive season.
BABY ABALONE EE-FU NOODLES FOR WORK LUNCH BOX
As a packed lunch, place baby abalone ee-fu noodles in a microwave-safe lunch box (I'm using an Ikea square +365 without the inserts). I recommend keeping the lunch box in a fridge or a cooler bag with ice pack due to the presence of seafood. To reheat, add a splash of water over the noodles (prevents drying out) before microwaving.
STEP-BY-STEP PHOTOS (Baby Abalone Ee-Fu Noodles)

First, bring a pot of water to boil. Add broccoli florets and carrot to boil for 2 minutes before taking them out. Optional: Place blanched veg in a large bowl of ice water to lock in the vibrant green hue of the broccoli.

Reboil the remaining water in the pot. Add and cook the dry ee-fu noodles in the boiling water for only a few seconds. Take out the noodles as soon as the noodles start to wilt in the hot boiling water, while they are still firm and uncooked. If you overcook the noodles, they will easily break apart when they are braised later. Drain the noodles and run them under cold tap water and set aside.

Add oil to a large frying pan. Stir fry garlic & button mushrooms until the latter starts to soften. Add asparagus (optional; I was clearing the fridge) and stir fry for 1 minute.

Add cut yellow chives and Chinese wine. Stir fry briskly.

(Side Note: These are yellow chives sold at Sheng Siong supermarket. You can read about more about this ingredient here.)
Add earlier prepared ee-fu noodles & pour sauce seasonings over the noodles. Coat the noodles evenly in the sauce (pictured above), then cover with lid and simmer until most of the sauce is reduced.

Place drained baby abalone & carrot on top of the noodles. Cover and steam the contents for another 2 minutes to warm up the abalones.

Stir in the broccoli and this dish is done!

Plate it up and garnish with spring onions.