Spinach with Baby Abalone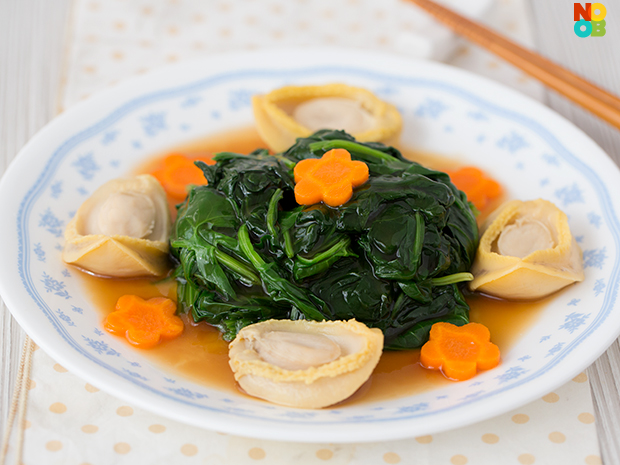 Chinese Spinach with Baby Abalone Recipe
In place of baby abalone, you can also use one or more of the following: sliced abalone, canned pacific or razor clams, limpets and broccoli.
In place of phuay leng, you can use local sharp or round spinach too – Snap the stems to shorter lengths, pulling to discard the "strings" before cooking.
Ingredients:
250 grams spinach (phuay leng) 菠菜
4 to 8 baby abalones from the can; drained
8 slices carrot sliced thinly (optional: cut to flower shapes)
1 tsp vegetable oil
(A) Sauce
1/2 cup chicken stock
1 tsp Shaoxing wine
1/4 tsp dark soy sauce
corn starch solution dissolve 1 tbsp cornstarch in 2 tbsp water
Directions:
Separate spinach stems from leaves. If spinach leaves are large, cut into two. Cut stems to 2.5 cm (1 inch). Wash and drain the spinach.
In a pot, bring water with 1 tsp vegetable oil to boil. Add carrot slices and spinach stems. After 1 min 30 seconds, take out the stems with a slotted ladle. Drain and arrange the cooked stems in a the middle of a large serving plate.
Add spinach leaves to the pot and cook for 30 seconds. Drain the spinach leaves through a ladle and run through tap water briefly to cool. Squeeze out the excess water from the leaves. Shape the spinach leaves to a ball in the middle of serving plate.
Dish out carrot and set aside. Warm the canned baby abalones in the pot for about a minute. Set aside.
In a clean saucepan, bring (A) to simmer, thickening with cornstarch solution until the desired consistency (semi-thick resembling maple syrup) is reached.
Pour sauce over spinach. Decorate with carrot and abalone before serving.