Fried Shark Fillet
I'm not sure if you are familiar with this Chinese-style fried shark fish fillet (it didn't seem common among my circle of friends), but I certainly grew up eating this dish. This is one of my mum's many specialty dishes.
See Also:
My mum always uses local shark meat fillet to make this (note: the meat, not the fin, and it's an entirely different breed from the endangered species of shark). In fact, this variety of shark meat is in abundance locally, so it is relatively cheap (1kg for about $12). The fish meat is tasty, soft and tender. The ingredients are few and simple, and the batter tastes light not floury. Even when the fried fish turned cold, they still tasted good. They are so addictive that we love to snack on them even before dinner starts. This plate was cooked entirely by my mum by the way, I was merely photographing, measuring and documenting the recipe as I wanted to learn this treasured family recipe from her.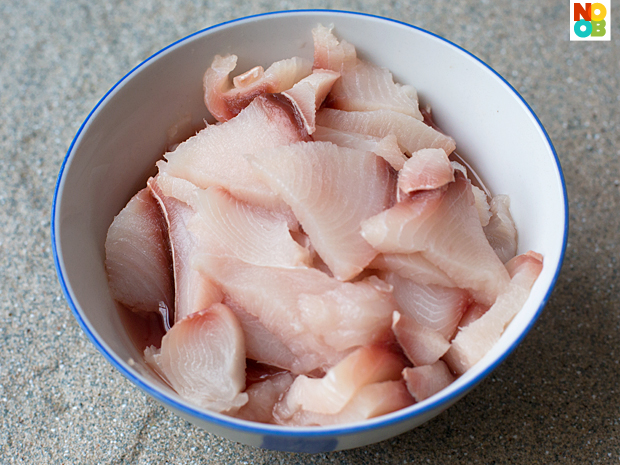 This is the fish (no bones or skin), sliced into small fillets, which is used in this recipe. If you buy the fish from the wet market, you can request the stall to remove the fish skin and bones for you, reducing most of the hard work required for this recipe.

Chopped old ginger, added into the fish batter. Although the pieces look solid, you won't taste the ginger pieces when the fish is cooked.
And this is the battered fish, before deep-frying.