Bacon Wrapped Scallops
I bought my favourite Canadian scallops during CNY but I have been using them rather stingily for hot pots. I don't often spurge on premium ingredients but when I do, I want to make sure my money is well-spent :P So I made these pan-seared bacon-wrapped scallops beauties instead which is more satisfying in terms of both aesthetics and taste. Now these scallops are definitely worth my money spent ;)
Related Recipe:
See Also: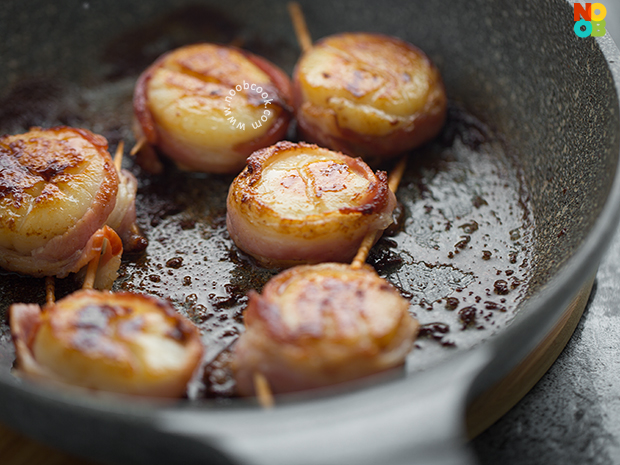 I wrapped each scallop with a strip of bacon (cut to size) and sear them on a hot pan. The scallops are cameralised on the outside, drawing out the scallop's natural umami flavours. The juices within are also sealed in, so the scallops are tender and retain at least 3/4 of their size after cooking. With the savoury bacon, there is no need for any salt or seasonings. These will make for a lovely appetizer, a side dish with pasta, or a low-carb (LCHF) meal when served atop a bed of salad. It's also a romantic dish to cook & impress your loved ones (but make sure you practise first hehee).
Step-by-Step Photos

Pat the scallops as dry as possible with paper towels. You can also air-dry them on an uncovered plate in the fridge. Dry scallops = better searing (caramelisation) effect.

Cut each bacon strip to half lengthwise (adjust accordingly to the size of scallops you are using). Then wrap each scallop with the bacon. If there are any odd-sized leftover bacon scraps, dice and use them for cooking other dishes, such as kale with bacon or bacon garlic pasta. Tip: If you find the scallop too salty, cut a shorter strip next time, according to taste.

Secure each scallop with a toothpick.

Traditionally, one uses cast-iron pan for perfectly seared scallops but I've always used a non-stick pan with good results. Grease a pan with olive oil on medium high until the oil is hot and you see the first sign of smoking. Add the bacon-wrapped scallops to the hot pan, leaving some space between each scallop. You should hear a sizzling sound once the scallop enter the pan. Tip: You can press the scallop with a spatula now and then to make sure it makes full contact with the pan.

Once on the pan don't touch them unnecessarily. Cook on one side until you see a brown crust peeking out from its underside, then flip the scallops over and cook the other side.

Garnish with parsley and black pepper. You can serve them with the toothpicks on …

… or remove the toothpicks. Enjoy!~