Stir-fry Pea Shoots (Dou Miao)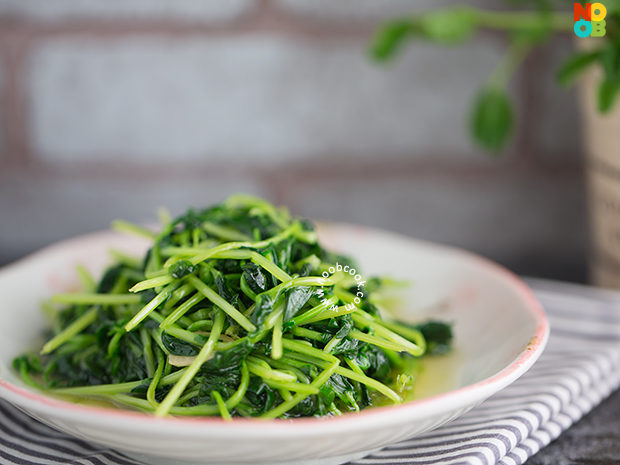 I have always avoided pea shoots (or better known as dou miao/豆苗 locally). To me, it's painfully difficult to stir-fry (and photograph! T_T) a plate of tenderly cooked pea shoots. Without a good wok heat, the pea shoots often turn out woody like gnawing on grass and appear yellowish after cooking. After many attempts :P, I finally managed to wok a plate of tenderly cooked stir-fried pea shoots (清炒豆苗). I'm so glad I don't have to shun this vegetable anymore, because this stir-fry is super fast and require minimum ingredients.

See Also:
Tips for a plate of tenderly stir-fried pea shoots:

Hot wok. Use the highest wok heat you can manage throughout the stir-fry. For me, the wok is always smoking hot during the entire stir-fry and the plate of pea shoots is still steaming when served on the table.
Fast cooking time. The pea shoots only require about 1 minute in the hot wok (from the time they start to wither). If you cook it too long, they will turn yellow. Prepare all the ingredients within easy reach from the stove before the stir-fry.
Variety. The pea shoots we have in Singapore is the thinner variety (小豆苗) versus the fatter variety (大豆苗) in US and Taiwan which are more tender after cooking. If you see pea shoots here that are slightly shorter and fatter, do get them as they tend to be more tender in a stir-fry. This is the one I usually buy, at the fridge section of selected NTUC. I have better results with this than the NTUC 'pasar' brand of pea shoots.
Oil & water. For a plate of tenderly cooked pea shoots, I used a bit more olive oil and water (or stock) than usual which helps to shoots to stay green and moist after wokking.
Freshness. Pea shoots perish faster than most other greens. I don't add pea shoots to my shopping list as they may not be nice on that particular day. Rather, whenever I see very good-looking ones I will buy it and cook it within a day or two.

Practice makes perfect, and just in case your wok is simply not hot enough (which is understandable for us home cooks), try an additional step of simmering the pea shoots, covered, for up to a minute after stir-frying. This may help to make the shoots more tender. Don't simmer for too long though, as the pea shoots may turn an unappetizing yellow instead.