Ikura Don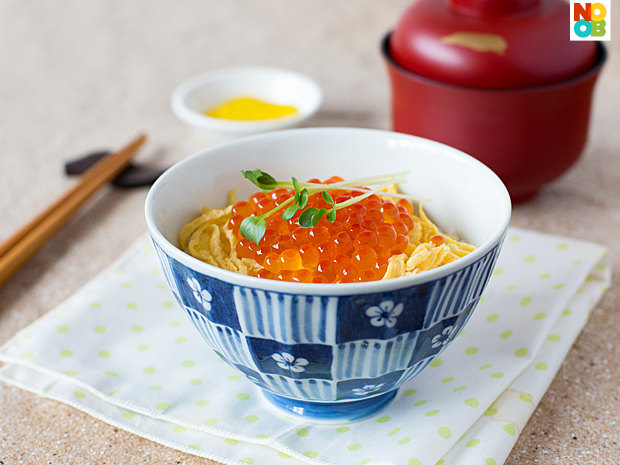 Don't Miss a Recipe!
Receive new recipes updates in your email box:
Ikura Don Recipe
For best results, use a wooden spoon when scooping and serving the fish roe. Metal spoon and utensils may affect the taste of the roe.
Ingredients:
1 serving cooked sushi rice Get sushi rice recipe here
3 tbsp (or more) ikura (salmon fish roe)
1 egg beaten
1 tsp cooking oil
a handful of Japanese radish sprouts (kaiware) ends trimmed; may substitute with chopped spring onions and/or shredded nori (roasted seaweed)
a small saucer of takuan (Japanese pickled yellow daikon) optional
Directions:
Heat a frying pan with oil and drop the egg into the pan. Swirl the pan so that the egg covers the entire surface. Cook the egg on both sides. When cool enough to handle, roll omelette to a cigar shape and slice to get long thin egg strips.
Ladle cooked rice into a rice bowl and top with shredded egg, followed by ikura and radish sprouts. Serve with takuan and miso soup, if desired.