Garden Pasta with Italian Vinaigrette
This is an easy & colourful garden pasta with all my favourite vegetables. The pasta was tossed in a pleasantly tangy and flavourful homemade Italian vinaigrette. It is super quick to make and great for helping me clear the weekly salad veggies in the fridge.
Related Recipes:
See Also:
STEP-BY-STEP PHOTOS
MAKING THE ITALIAN VINAIGRETTE PASTA DRESSING
The base pasta sauce is an Italian vinaigrette made with olive oil, red wine vinegar, dried Italian seasoning, honey (I used zero-calorie pancake syrup as a low carb substitute), salt & pepper. Whisk or shake it in a bottle until well combined. This dressing works for both pasta & salad and can be prepared in advanced. You can check out more photos in my Italian vinaigrette recipe.
STEP-BY-STEP PHOTOS

Cook spiral pasta (fusilli) in a pot of salted water until al dente. Reserve a small cup of pasta water if not using chicken stock to bind the pasta later.

Drain the pasta and add them to a large mixing bowl.

Add sliced red onions, halved cherry tomatoes, thinly sliced peppers, quarter moon cucumber and shredded carrot. I'm lazy so I'm basically using any vegetables that do not require cooking.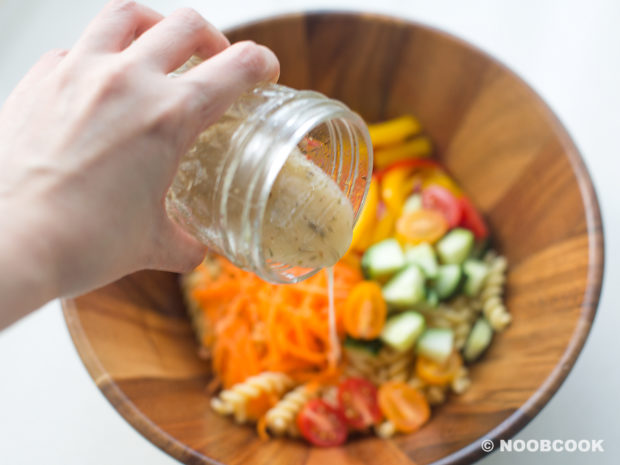 Pour the tangy Italian vinaigrette slightly thinned with some rich chicken stock (or pasta cooking water) …

… and some grated Parmesan cheese.

Mix together until well combined. This pasta can be served either at room temperature or chilled. It tastes pleasantly tangy, ultra-refreshing and also keeps well for a night in the fridge.