Creme Brulee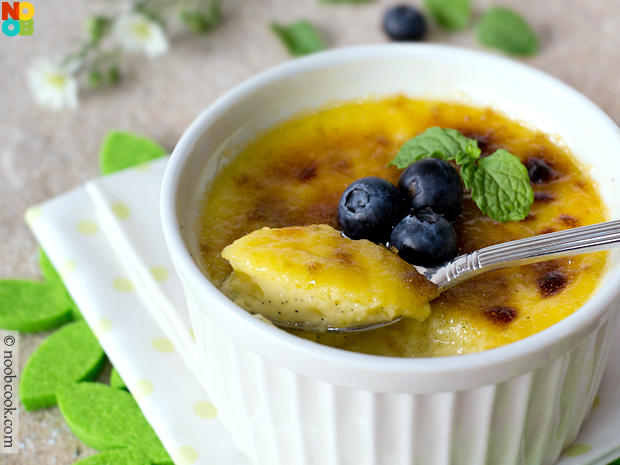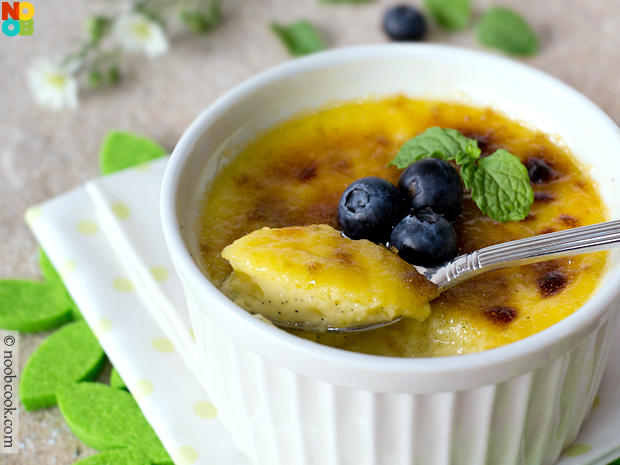 Creme Brulee Recipe
Achieve the cameralised top effortlessly using a butane torch to burn a top layer of sugar. If you do not have a butane torch, you can also use the broiler or grill feature of your oven to do the trick.
Ingredients:
250 ml (1 cup) thickened cream
½ vanilla pod (sliced lengthwise) or substitute with ½ tsp pure vanilla extract
2 large egg yolks
2 tbsp caster or superfine sugar to taste
brown sugar
boiling water
Garnishing
Directions:
Slit the vanilla pod in half, lengthwise. Using the back of your knife, scrap out the vanilla seeds. If you are not using vanilla pod, substitute with ½ tsp pure vanilla essence.
Add cream, vanilla seeds and the half vanilla pod in a microwave-safe cup or bowl. Microwave at medium low power (300 watts), uncovered, for 3 minutes until the cream is warmed through but not boiling. Alternatively, you may heat it using a saucepan on a stove. Discard vanilla pod after warming.
Add egg yolks and caster sugar in a large bowl; whisk until just combined.
Add one ladle of the warmed cream and mix well with egg whisk. Then add the rest of the cream and whisk. Run the custard mixture through a sieve.
Fill ramekins with custard mixture. If there are air bubbles, flatten them with the back of a spoon.
Place ramekins inside a roasting dish. Pour boiling water into the dish until it reaches about halfway up the ramekins. Be careful not to spill any water into the ramekins.
Bake at pre-heated oven of 160°C (320°F) for about 40 minutes. The custard should be wobbly like jelly when shaken. Let the ramekins cool to room temperature, then refrigerate for a few hours or even overnight for the custard to firm up.
Before serving, sprinkle a thin layer of brown sugar on top. Burn the sugar for a few seconds until nicely cameralised, either using a butane torch or broiler. Garnish with berries and mint leaves.