Creme Brulee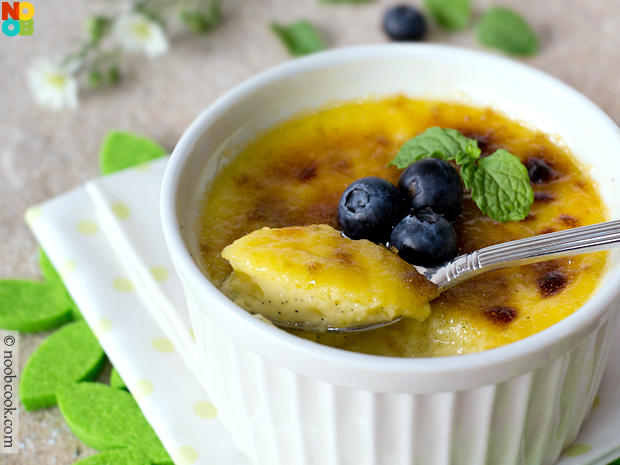 Don't Miss a Recipe!
Receive new recipes updates in your email box:
Crème brûlée (French for "burnt cream") is a popular dessert with a custard base and topped with caramelized sugar. It is considered a gourmet dessert with equally gourmet prices when ordering outside, but it is actually easy, cheap and fast (minus the chilling time) to prepare at home. From the basic creme brulee recipe, you can experiment with all types of flavours.
See Also:
Typically, the cameralised top is achieved using a butane torch to burn a top layer of sugar. If you do not have a butane torch, you can also use the broiler or grill feature of your oven to achieve the cameralised effect – I have tried and it works.  This is a dessert which you can prepare and chill in the fridge in advance especially if you have guests coming over.
| | |
| --- | --- |
| | Creme Brulee (Step-by-Step) |
| | Slit the vanilla pod in half, lengthwise. Using the back of your knife, scrap out the vanilla seeds. |
| | Add cream, vanilla seeds and the half vanilla pod in a microwave-safe cup. Microwave at medium low power (300 watts), uncovered, for 3 minutes until the cream is warmed through but not boiling. Discard vanilla pod after warming. |
| | Add egg yolks and caster sugar in a large bowl; whisk until just combined. |
| | Add one ladle of the warmed cream and mix well with egg whisk. Then add the rest of the cream and whisk. |
| | Run the custard mixture through a sieve. |
| | Fill ramekins with custard mixture. If there are air bubbles, flatten them with the back of a spoon. |
| | Place ramekins inside a roasting dish. Pour boiling water into the dish until it reaches about halfway up the ramekins. Be careful not to spill any water into the ramekins. Bake in oven until the custard is wobbly like jelly when shaken. Let the ramekins cool to room temperature, then refrigerate for a few hours or even overnight for the custard to firm up. |
| | Before serving, sprinkle a thin layer of brown sugar on top. Burn the sugar for a few seconds until nicely cameralised using a butane torch. |
| |  If you do not have a butane torch, use the broiler or grill feature of your oven to do the trick. |