Prawn Paste Chicken (Har Cheong Gai)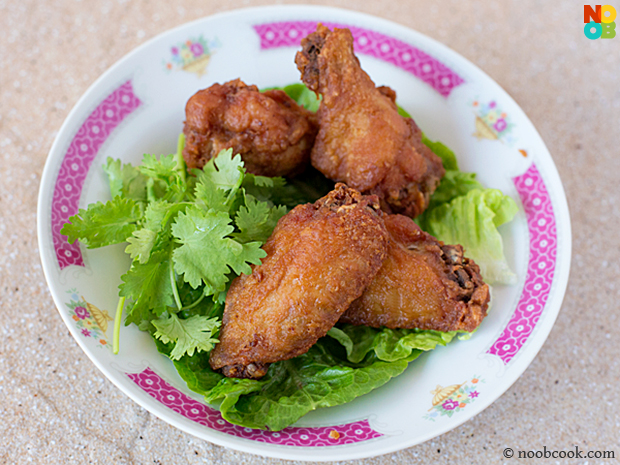 Prawn Paste Chicken Recipe
For best results, marinade the chicken wings over night in the fridge for the chicken to fully absorb the marinade.
Ingredients:
500 grams chicken wings cut at the joint (or use drumlettes/mid-joints)

1/2 cup corn flour (corn starch)
vegetable oil (for deep frying) enough to submerge the chicken
Marinade (A)
Directions:
In a bowl, combine the marinade ingredients (A) until a paste is formed. Marinade the chicken with the sauce for at least an hour or overnight in the fridge.
Just before deep-frying, add corn flour to the marinade chicken. Stir to coat evenly, until the flour is dissolved completely into the marinade and forms a sticky coat on the chicken.
Heat oil in a wok or pot to about 180°C (356°F). Deep fry in batches for about 5 minutes, or until the chicken is golden brown, turning once half way. During the last minute of deep-frying, turn the heat up slightly to allow the chicken to crisp well. Drain excess oil on paper towels before serving.