Low Carb Tom Yum Shrimp Shirataki Noodles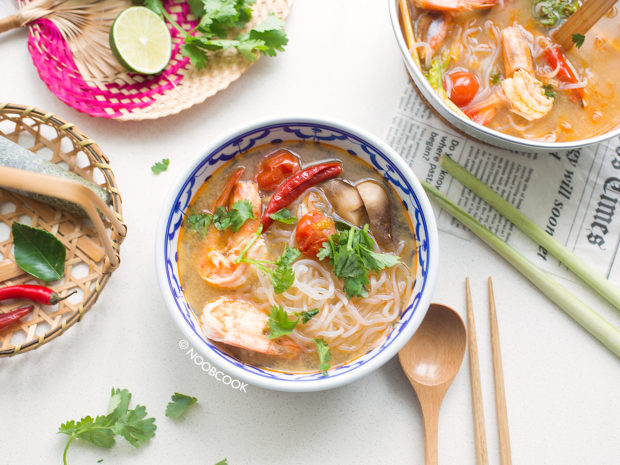 Tom Yum Shrimp Shirataki Noodles Recipe
Ingredients:
1 packet(net weight 200g) shirataki noodles (aka Japanese yam/konjac noodles)
5 or more jumbo shrimps deveined; head & tails on
500ml water
5-10 cherry tomatoes
50g straw mushrooms (either canned or fresh)
1 tbsp fish sauce to taste
a small squeeze of Thai lime juice to taste
chopped coriander garnish; optional
(A) Tom Yum Soup Base
30g instant tom yum paste see cooking note below
3 shallots thinly sliced
1 lemon grass use only outer white portion; cut to short sections
3 kaffir lime leaves
2 dried chilli deseeded; optional
1 red chilli padi deseeded; optional
Directions:
Prepare shirataki noodles by draining the noodles from the pouch of water. Add drained noodles and some water in a pot. Boil for 2-3 minutes. Run the noodles in tap water to cool down and set aside.
Make the dish. Add soup base ingredients (A), cherry tomatoes, straw mushrooms and water in a small pot. Bring to a boil and then add the shrimps. Once the shrimps are cooked, season the soup to taste with lime juice and fish sauce. Add the earlier prepared shirataki noodles to the pot. Garnish with coriander before serving.
Cooking Note(s)
I'm using the Lobo brand of instant tom yum paste. You can use any favourite brand of instant tom yum and season to taste accordingly.
Even though I am using a premade paste, I still added the aromatics at (A) for better taste and presentation. You can skip them if you wish to.