Low Carb Tom Yum Shrimp Shirataki Noodles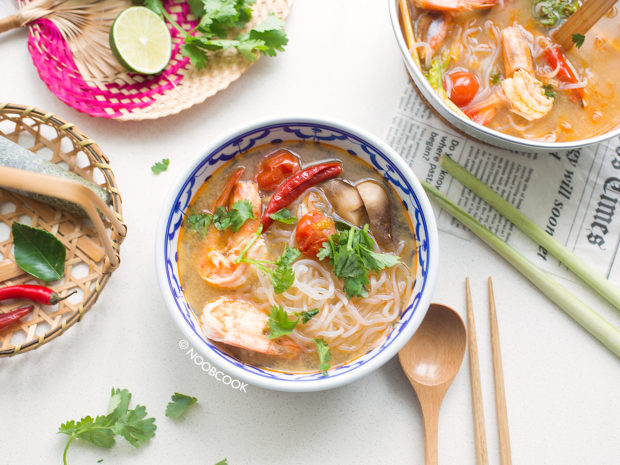 When keeping my weight in check, I know from past failures experience that depriving myself of carbs or my favourite dish is not the way to go. Instead, for one meal a day, I made a resolution to eat a low carb meal which can be in the form of a salad, a soup or this delicious tom yum shrimp shirataki noodles. It is made with shirataki noodles (aka Japanese yam or konjac noodles), which contains (almost) zero calories. This dish certainly curbed my craving for spicy Thai food with a much needed lower carb content. It really helps that both the appearance & texture of shirataki noodles quite closely resemble the Thai glass noodles typically used in this dish.
See Also:
STEP-BY-STEP PHOTOS

This is Japanese shirataki noodles, which contains nearly zero calories. This will be my low-carb substitute for the Thai glass noodles.
Drain the shirataki noodles from the pouch and boil the noodles with some clean water on the stove for 2-3 minutes (pictured above). After that cool down the noodles under running tap water and set aside.

This was the packet of instant tom yum paste I used for this recipe. It is a single-use portion.

In a pot, add lemongrass, kaffir lime leaves, red chillis (dried & chilli padi), shallots, straw mushrooms, cherry tomatoes and the instant tom yum paste.

Add water, bring to a boil and ensure the tom yum paste is entirely dissolved.

Add deveined shrimps and once they are cooked (which is fast) …
… season the tom yum soup with fish sauce (pictured above) and a small squeeze of lime juice. Since I'm on a low-carb meal, I go easy on the lime juice as too much will make the soup too sourish which may require the need to add sugar to balance the flavour.

Return the prepared shirataki noodles to the soup pot to warm it up.

Garnish with coriander. You can serve this straight from the pot …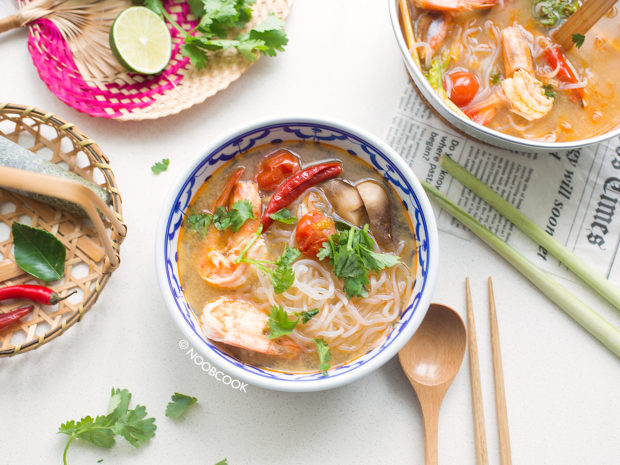 … or dish out to a serving bowl before serving.