Green Bean Multigrain Porridge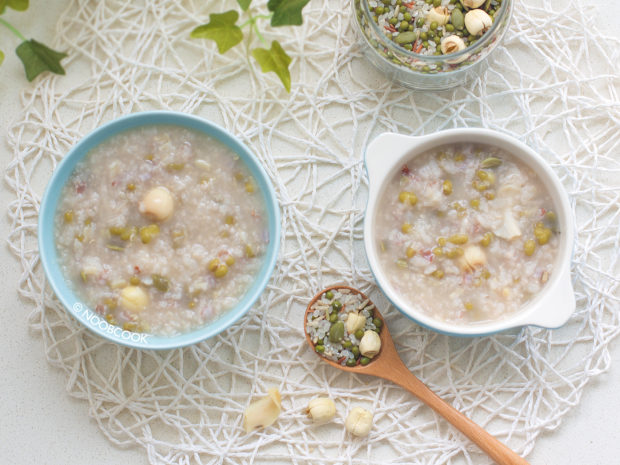 Green Bean Multigrain Porridge Recipe
You can substitute green beans with red beans depending on your climate. Green beans are said to be 'cooling' so they are great for hot weather, while red beans are said to be 'warming' which is suitable for colder days.
You can also add on your favourite grains to the multigrain mix – suitable grains include holland barley, buckwheat & millet.
Ingredients:
6 tbsp (90g) green bean (mung bean/绿豆)
hot water to soak the beans
4 cups (stove top) or 3 cups (rice cooker) water top up whenever needed
Multigrain rice mix:
1 cup (180g) white rice short-grain preferred as it makes the porridge more starchy
4 tbsp (60g) red or brown rice
18 (about 20g) dried lotus seed middle green shoot removed, if any
15g shelled pumpkin seeds optional
10g dried lily bulb optional
Directions:
Preparation
Soak the green beans in hot water for 3 hours. Rinse the beans and set aside.
Wash the multigrain rice mix with some water in a pot, giving the contents a few swirls. Rinse and drain the water.
Rice Cooker Method
Add the soaked green beans, washed multigrain rice and 3 cups water. Set rice cooker to "Porridge" mode. Keep warm until the porridge is softened to liking or until ready to serve.
Stove-top Method
Add the soaked green beans, washed multigrain rice and 4 cups water to the pot. Cover with lid and bring to a boil. Reduce heat to a simmer, leaving the lid slightly open with a small vent and cook for about 40 minutes, or until the beans are softened to liking, occasionally stirring the sides and bottom of the pot.
Cooking Notes:
To soak or not to soak the ingredients?
Soaking green beans help the beans to cook faster, be cleaned more thoroughly & in aiding digestion by reducing gas.
In this recipe, I only soak the green beans in hot water. However, if you have premix all the ingredients in a container, you can soak everything in a pot of cold water overnight before cooking.
If you do not have the habit of soaking beans ever, you can cook the multigrain rice straight after washing. You will need to keep warm longer in the rice cooker or simmer the porridge longer on the stove, until the green beans are softened to liking.