Fried Bee Hoon with Stewed Pork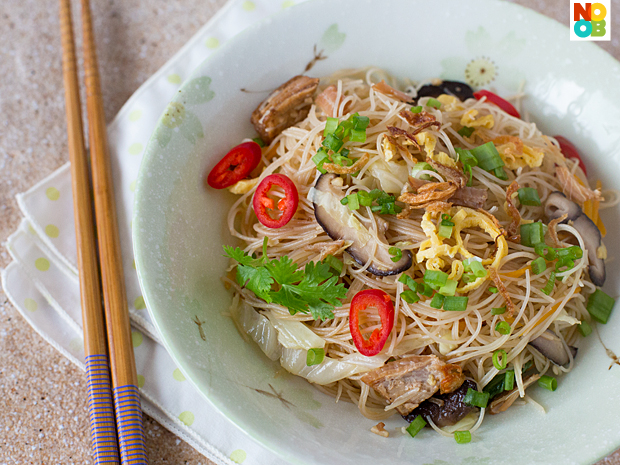 Fried Bee Hoon (Rice Vermicelli) with Canned Stewed Pork Recipe
Use kitchen tongs when cooking the rice vermicelli so that they are easy to handle. If you are cooking for more, just adjust the ingredients and seasonings accordingly; for example: 50 grams of rice vermicelli per person.
Ingredients:
150g rice vermicelli (rice noodles/米粉) aka "bee hoon"
1 can stewed pork (I use narcissus brand, 256g)
1 tsp + tbsp vegetable oil
1 egg seasoned with 1/2 tsp light soy sauce, beaten
3 cloves garlic minced
4 fresh shiitake mushrooms sliced thinly
200g cabbage shredded
1/2 carrot sliced to thin strips using a zigzag peeler
(A) Sauce
Gravy reserved from canned stewed pork (discard the solidified fats floating on top of gravy)
1 cup water
2 tsp light soy sauce to taste
1 tsp dark soy sauce add more if you want the noodles to look darker, do not add if you want white noodles
Garnishing:
red chilli sliced thinly
coriander leaves
chopped spring onions
Directions:
Soak the rice vermicelli in a bowl of water for about half an hour, until the noodles are fully reconstituted. Drain and set aside. Skip this step if you are using instant rice vermicelli (if you want to soak them, they take less than 5 minutes to soften).
Open the can of stewed pork, take out the stewed pork pieces, discarding the excess layer of fats attached to the meat. If you like, use your fingers to gently separate the meat to smaller chunks. Remove the oily bits from the gravy. Set aside both gravy and the pork pieces.
Grease a wok with 1 tsp oil, and cook the egg by spreading it as thinly as possible. When both sides are cooked, roll the omelette like a cigar and slice it into thin strips. Set aside.
Heat the wok with remaining oil and stir fry the garlic for 30 seconds. Add mushrooms and cabbage. Stir fry until they are just starting to soften. Then add carrots and canned pork pieces. Briefly stir fry until the vegetables are just cooked. Transfer the contents of the wok to a plate.
Add (A) and bring to a gentle simmer. Then add the softened rice vermicelli. Cook until the noodles have soaked up all the water and is of a dry consistency. Stir in the plate of previously cooked vegetables and egg; stir fry briefly to mix everything thoroughly. Ladle to serving plates and garnish with cut chilli, coriander, spring onions and fried shallots.
Noob Cook Tip
For this dish, some people also use canned stewed pork ribs. The taste is just as good though I personally prefer stewed pork as it is more meaty.