Steak with Black Pepper Sauce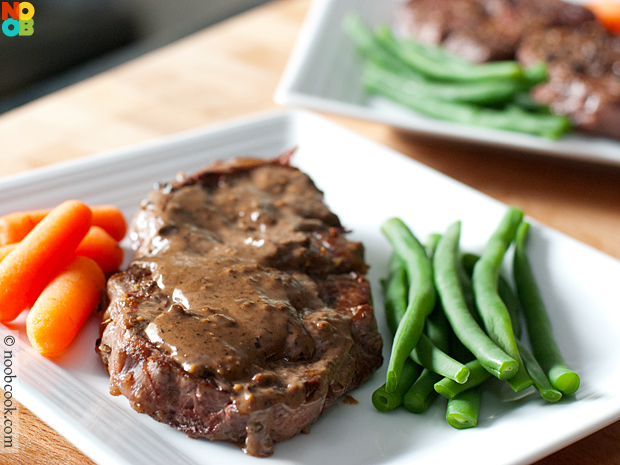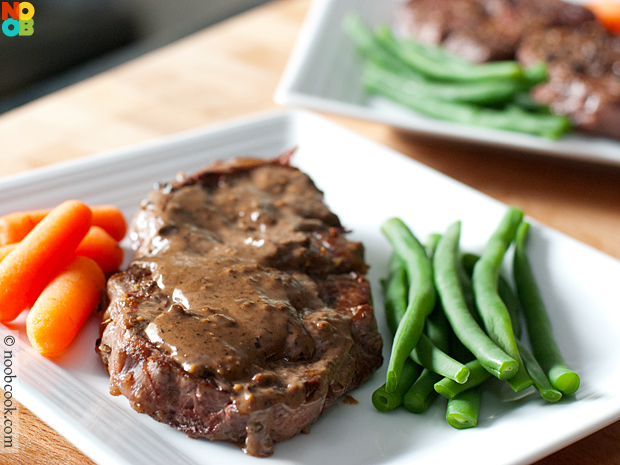 I cooked a homely ribeye steak dinner with black pepper sauce on Valentine's Day. Our plate looks quite gourmet, but it only took me under 30 minutes to prepare and cook this meal, and I would say the result is really well worth the time & effort spent.
Steak dinners are perfect for a romantic meal for two or a monthly indulgent meal, and it is fast to prepare since they cook really quickly. I usually prefer my steak without thick sauces, but since it is a special occasion, I made our family's favourite black pepper steak sauce. You can tweak the pepperiness of the sauce to your liking by adjusting the amount of black peppercorn used, and crush them just before cooking to preserve its peppery flavour.
Tips for cooking perfect, juicy steak (more tips here):

For best results, choose steak which is preferably at least 1-inch thick (the thicker the better).
Let the steaks rest at room temperature for about 30 minutes before cooking.
Season the steak with salt and black pepper just before cooking to prevent drying out the meat.
Heat saucepan on high heat until very hot. Place the steaks onto the hot pan (you should hear a sizzling sound if the pan is hot enough) and reduce the heat to medium high.
When cooking, turn the steak over once using a pair of kitchen tongs. Do not keep flipping and turning the steak as it is cooking.
Place the cooked steaks on a plate and let it "relax" for a few minutes before serving so that the juices will disperse throughout the steak and it will be juicy. Do not discard the liquid collected on the plate – use it for making steak sauce.