Steak with Black Pepper Sauce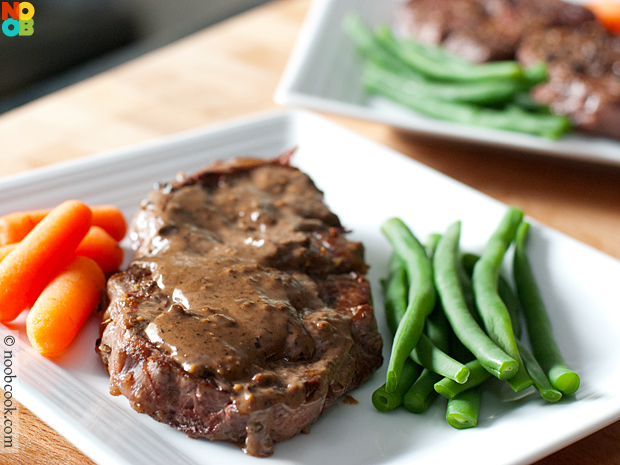 Don't Miss a Recipe!
Receive new recipes updates in your email box:
Steak with Black Pepper Sauce Recipe
You can tweak the pepperiness of the sauce to your liking by adjusting the amount of black peppercorn used. Crush the peppercorn just before cooking to preserve its peppery flavour.
Ingredients:
2 ribeye or sirloin steaks at least 1-inch thick (about 250g each)
100 grams baby carrots peeled
100 grams baby fine beans ends trimmed
olive oil
1/2 tsp sea salt
2 tbsp black peppercorn pounded using mortar and pestle
1/2 glass red wine
100 ml beef broth you can cheat by using a small piece of beef stock cube
4 tbsp thickened cream to taste
1/2 tsp Worcester sauce (Worcestershire Sauce)
cornstarch solution 1/2 tsp cornstarch dissolved in 2 tsp water
Directions:
Blanch carrots and baby fine beans in a pot of boiling water for 3 minutes. Transfer immediately to an ice water bath for 5 minutes, drain and set aside.
Brush both sides of steaks with olive oil, season with salt and 1/2 tsp of the crushed pepper.
Heat saucepan on high heat (without any oil) until very hot. Place the steaks onto the hot pan and reduce the heat to medium high.
Cook the steaks based on desired doneness. For my steak which is 1-inch thick, I cook each side for about 4 minutes, for somewhere between medium rare and medium. Note: add or subtract for each stage of doneness – e.g. add 1 minute for medium well.
Place the cooked steaks on a plate and let it rest for a few minutes before serving. Reserve the liquid collected on the plate for making black pepper steak sauce.
Meanwhile, heat the saucepan used to cook the steak. Add red wine and deglaze the pan by scraping the browned bits with a spatula. Simmer for a few seconds to allow the alcohol to evaporate.
Add remaining crushed black pepper, beef broth, liquid collected from the cooked steak (step 5), cream and worcester sauce. Simmer for few minutes. Thicken the sauce with cornstarch solution.
Arrange cooked steak on a plate with blanched carrots and beans. Ladle black pepper sauce over the steak and serve immediately.