Stir-fried Leeks with Vegetables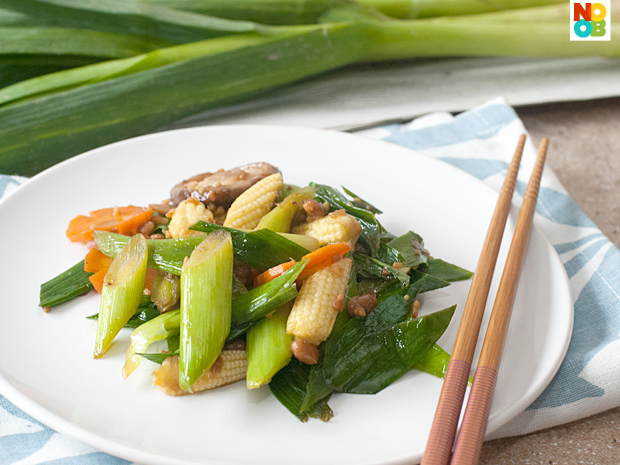 Stir-fried Leeks with Vegetables Recipe
Wash the crevices between the leek leaves thoroughly, as there is soil trapped in between the leaves. One way to clean them is to slice them half lengthwise, and after washing thoroughly, pat dry with kitchen paper towels and slice accordingly.
During the stir-fry, add a splash of water (or about 2 tbsp at a time) whenever the contents are too dry.
Ingredients:
200g leeks sliced diagonally (separate stalks from leaves)
1 tbsp cooking oil
4 cloves garlic peeled and finely chopped
5 fresh shiitake mushrooms stalks removed
5 baby corn sliced diagonally
1/2 carrot peeled and thinly sliced
1 tbsp taucheo (soy bean sauce)
1/2 tbsp sesame oil
1 tbsp Shaoxing wine
Directions:
Heat oil in wok. Stir fry garlic until fragrant. Add leek (white portion), mushroom, baby corn and carrot. Stir fry for about 1 minute over high heat. Add tau cheo and sesame oil. Stir fry for another 1-2 minutes, or until the leek stalks are cooked.
Add leek leaves and stir fry briefly till the leaves are cooked and coated in the tau cheo. Drizzle Chinese wine along the sides of the wok, turning off the heat seconds later when you smell the aroma of the wine.