Salted Kelp Mushroom & Sausage Pasta
This salted kelp mushroom & sausage pasta was whipped up mostly with pantry ingredients. The button mushroom and sausage were in the freezer. The only fresh foods were the bell peppers & spring onions. So this pasta was great to me because I can whip it up even without much fresh food around. Best of all, it's super easy and takes only 15 minutes!
See Also:
SPECIAL INGREDIENT #1: SALTED KELP

This savoury salted kelp is a recent discovery of mine from Daiso. The kelp adds an instant umami depth to this pasta dish. I have used this in my salted kelp cucumber salad recipe. Now, I am adding this to my pasta and I love it.

SPECIAL INGREDIENT #2: SOBA SAUCE (TSUYU/つゆ)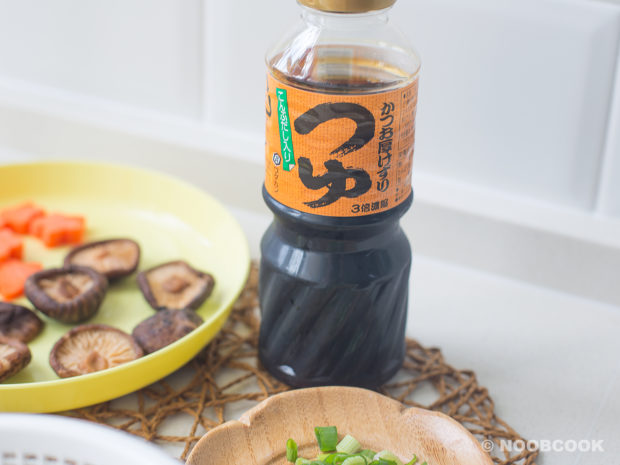 This soba noodle sauce or tsuyu sauce (つゆ) is also from Daiso. My pantry is always stocked with this sauce as it is affordable and tasty. Usually, the soba sauce is diluted with water to make a dipping sauce (noodles/tempura) or soup base. This is the first time I'm using it as a stir-fry sauce and it totally rocks! Together, the salted kelp & soba sauce is a winning combination which adds instant flavour to any pasta. I saw this from watching those Japanese YouTube daily life videos where sometimes we get a glimpse of what Japanese cook for their daily meals.
STEP-BY-STEP PHOTOS
First, cook angel hair in a pot of boiling salted water. Slightly undercook the pasta by about 30 seconds for angel hair, and about 2 minutes for other pasta. Drain the pasta & reserve a small cup of pasta cooking water.

Add sliced button mushrooms (I'm using frozen hence the ice crystals) & oil to a pan, and cook until the mushrooms are soft.

Add sliced sausage and cut chilli (optional). Stir fry briefly until aromatic.

Add cooked pasta, soba sauce, salted kelp, pasta cooking water and butter.  Mix everything together.

Add thinly sliced bell peppers, turn off the stove and mix the peppers evenly in the noodles.

Season with black pepper & garnish with spring onions. This is delicious!