Oyster Soba Noodle Soup
This is an easy & satisfying oyster soba noodle soup lunch. This was actually my first home-made meal on the first day of our partial lockdown ("circuit-breaker") but due to an oversight, I'm posting the recipe as we entered the half point mark (1 month) :P The second meal of that day was made with the same ingredients but with a different topping (instant shrimp wontons).
Related Recipe:
See Also:

On the eve of the lockdown, there were crazy queues at all the supermarkets. So I went to The Seafood Market Place with a short 5-minute queue and bought a 1kg bag of frozen oysters (along with a bag of frozen crayfish). So that was how I ended up cooking with oysters on the first day of staying home :p

Main ingredients. Carrot slices, dried mushrooms caps, Chinese spinach, and oysters meat.

The oysters. If I am making this dish again (in less chaotic times) I would buy plump jumbo oysters like those I used for my oyster donburi. But these are still decent.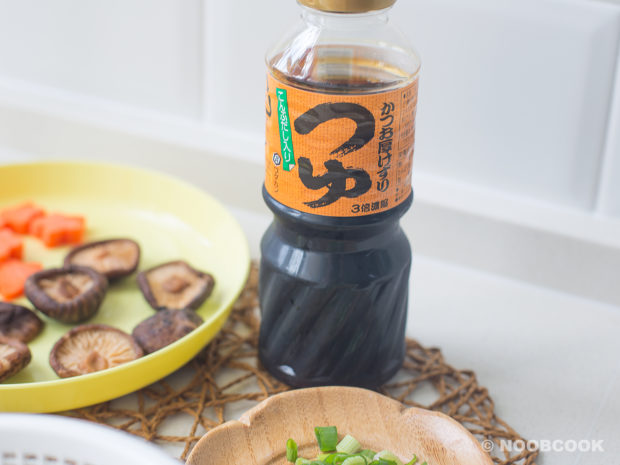 The soba noodle sauce called "tsuyu" in Japanese (above) and soba noodles were purchased from Daiso. This is a staple in my pantry because it's cheap & delicious. Outside of Daiso, such noodle sauce and noodles are widely available at the Japanese sections of supermarkets.

The main reason I love this recipe is because everything other than the oysters cooks in the same pot. That meant I first boiled the water to cook the carrots, soba noodles and mushrooms (pictured above). After I dished them out, I cooked the Chinese spinach in the remaining water. The advantage of using dried mushrooms is that they store better in the pantry during this period, and the soaking water added a depth of umami to the soup broth. However, they can be substituted with fresh shiitake mushrooms.

When cooled, I squeezed out excess water from the spinach. I divided what I made into two batches, one for lunch (this oyster soba), while the other half was saved for my shrimp wonton soba soup for dinner.

Then I prepared the soup base, which was the instant soba sauce and water. I placed the oysters on a slotted ladle (pictured above) to be cooked in the boiling soup like hotpot. In this way, they won't overcook.

Top noodles with the cooked oysters and pour the hot soup over.