Avocado Wafu Salad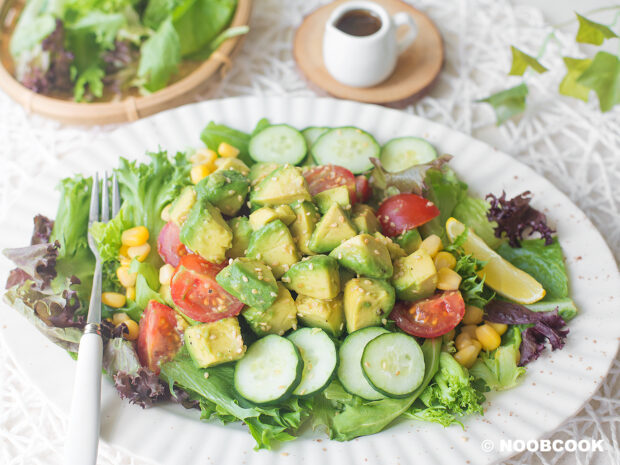 Don't Miss a Recipe!
Receive new recipes updates in your email box:
Avocado Wafu Salad Recipe
The lemon juice helps to slow down the oxidation (browning) of the avocado, so that they look fresh and green on the table.
Ingredients:
1 serving mixed salad greens washed & spun dry
1 ripened avocado pitted & cubed
4 cherry tomatoes quartered
1 1/2 tsp lemon juice
a light sprinkle of garlic salt
freshly cracked black pepper to taste
(A) Wafu Vinaigrette Dressing
See the ingredients picture here. 
1 tbsp Japanese rice vinegar or apple cider vinegar
2 tbsp low-sodium light soy sauce (a little more, to taste, if using non low-sodium)
1 tbsp quality sesame oil
1 tsp honey (or fine sugar) to taste
1/2 tsp ginger paste (or 1/2 tsp freshly grated 

ginger juice

)
Suggested Garnishes
few thinly sliced Japanese cucumber
a sprinkle of toasted sesame seeds
1 tbsp corn nibblets
1 lemon wedge
Directions:
Make wafu dressing by whisking (A) in a small bowl. Portion out 2 tbsp dressing for the salad, and keep the rest in the fridge for your next salad.
Make avocado & tomato mix. Add avocado &  lemon juice to a bowl and mix well. Stir in the tomatoes. Season with garlic salt and black pepper.
Make salad. On a serving plate, add the avocado & tomato mix on a bed of salad greens. Garnish with cucumber, corn, lemon and a sprinkle of sesame seeds. Serve with the salad dressing at the side.
Cooking Note:
Use a quality sesame oil that is aromatic and pure. I'm using the popular Japanese "Kadoya" brand of sesame oil, and I kept my bottle in the fridge for freshness as our weather is humid.