Arrowhead Chips
Goat Xi Fa Cai! Here's wishing everyone a happy and prosperous Year of the Goat. My most craved-for Chinese New Year (CNY) snack are these addictive deep fried arrowhead chips. After all, I can eat pineapple tarts and most other CNY goodies all year round. But arrowhead/慈菇 (also known "chiku" or "ngaku") sell only once a year during the CNY season, and absence certainly made my heart fonder for them.
See Also:
They are cheap to make (1 kg of arrowhead is about S$2.30) with only two ingredients – arrowhead and oil. But I don't want to kid you: making them IS a tedious process. You need to peel, air dry and deep fry. The process, excluding air drying time, took me about 2 hours. If you can get pass the hardship, I assure that you will be rewarded with the best tasting chips (my family calls them "enhanced potato chips"), without the awful recycled oil taste of the expensive store-bought ones.

Do try out this recipe during the 15 days of the lunar new year season if you can still catch them selling at Giant supermarket and wet markets in Singapore.
Step-by-Step Pics (Arrowhead Chips)


Cut the base of each arrowhead.

Peel and discard the skin using a vegetable peeler (as shown) or paring knife, leaving the stalk intact.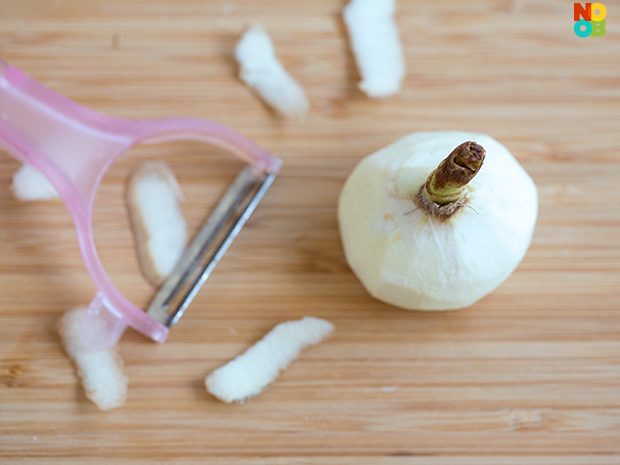 The peeled arrowhead with stalk on.

Hold the arrowhead by the stalk with one hand, and stablise the mandoline slicer with the other hand. Carefully shred the arrowhead to thin chips.

They should resemble thin circular "potato chips".

Pat dry the arrowhead chips with paper towels, and spread them out on several big plates. Air dry for about 3 hours to minimize oil splatters. I use a fan to speed up the process.
Heat oil in saucepan or wok and deep fry until light golden. Tip: When deep frying the first batch, you may want to start with a few pieces to test the heat and get the cooking timing right. Temperature and full printable recipe on the next page >>