Kimchi Soup (Kimchi Jigae)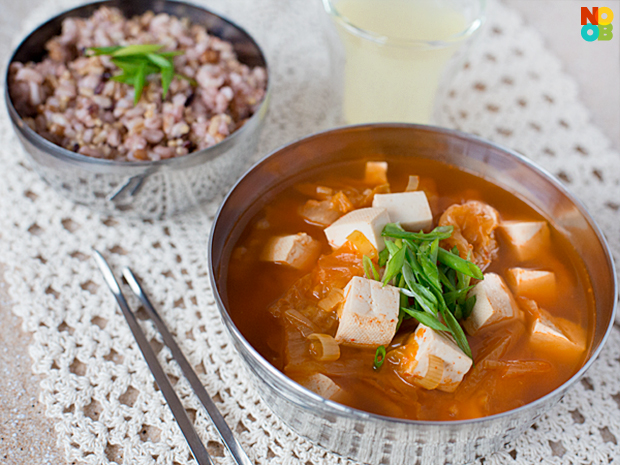 Kimchi Soup (Kimchi Jigae) Recipe
This recipe uses pork, but feel free to tweak it with your favourite ingredients. You may also do a short-cut version of this recipe using instant soup stock.
Ingredients:
300 grams boneless pork loin cubed
300 grams kimchi preferably aged (including kimchi juice) cut to bite-sized lengths
2 tbsp gochujang (Korean chilli paste)
2 tsp sesame oil
1/2 tbsp garlic powder or substitute with 1 tsp minced garlic
1 tbsp Shaoxing wine
1/2 tsp light soy sauce
20-25 Korean large anchovies (myulchi) rinsed or substitute with 50 grams local anchovies (ikan bilis)

1 litre water
1/2 leek sliced thinly
1/2 tsp gochugaru (Korean hot chilli pepper powder) to taste
300 grams firm tofu cubed
fish sauce or light soy sauce to taste
Directions:
Marinade pork and kimchi with gochujang, sesame oil, garlic, Chinese wine and light soy sauce for at least half hour.
In a soup pot, add anchovies (sealed in a disposable soup pouch), marinaded meat prepared in step 1, leeks and gochugaru. Simmer for 10 minutes.
Add cubed tofu and simmer for another 8-10 minutes. Season to taste with fish sauce or light soy sauce.