Crispy Garlic Oil
Crispy garlic + garlic-infused oil is an essential condiment in my kitchen. The crispy garlic can be used as a topping for many Chinese dishes such as oyster sauce vegetable, while the garlic oil is great in stir-fries, as a salad oil or for general seasoning. This is one dish I prefer home-made, because I'm using olive oil which I think is healthier than the other types of vegetable oil used in store-bought ones.
More Home-made Oil Recipes:

I have been making crispy garlic oil for many years, and while the recipe is really very easy, the temperature and timing have to be very precise to get it right. The oil must be sufficiently hot so that the garlic will crisp, but not too hot that they become burnt and bitter. Check out the step-by-step pictures below.

For best results, I use freshly chopped garlic (though it is perfectly ok to use instant bottled chopped garlic if you are busy). I use an electric chopper as a speedy short-cut.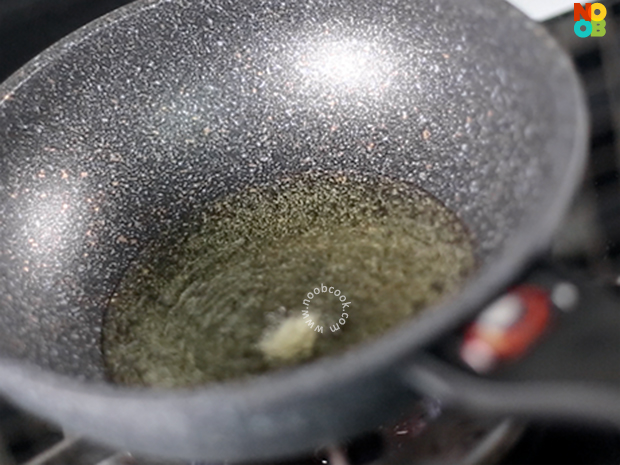 Heat olive oil in a small wokpan or pot on medium heat. The oil is ready when you start seeing tiny bubbles gathering. Test the temperature by dropping a small piece of chopped garlic into the hot oil – it should sizzle gently and float up immediately.

Add all of the chopped garlic into the hot oil.

Stir the garlic every now and then with a heat-proof spatula, so that the garlic cooks evenly. If you don't stir, the garlic at the edge of the pot browns first.

Optional: When you see that the garlic is changing colour, take the wok off the heat and swirl the pot, or stir gently with a spatula, until the garlic is of an even, light golden shade (see below pic, left).

When the garlic turns light golden brown (pictured left above), transfer the contents to a heat-proof bowl. The garlic should still be bubbling in the hot oil as shown. Let the garlic cook gently in its own hot oil  until it reaches a perfect golden brown (pictured right above), about 3 to 5 minutes.

When the oil has cooled, you can separate the crispy garlic from the oil using a strainer.

Storage: Keep the crispy garlic in a small tin container with a thin layer of garlic oil covering it. The remaining garlic-infused oil is great for stir-fries, salad dressing or seasoning oil.

I always refrigerate the tin of crispy garlic in oil, where it keeps for at least 2-3 weeks. The oil will solidify as pictured above. To use, spoon what you need and the oil thaws quickly at room temperature or in the wok. P.S. I have not tried and do not recommend re-heating oil using the microwave oven.

This is just one example of how I usually use the crispy garlic in my favourite home dish: oyster sauce vegetables.