Ravioli Pesto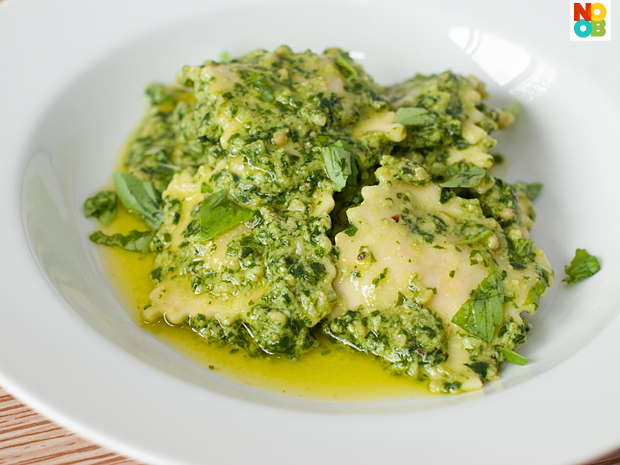 Don't Miss a Recipe!
Receive new recipes updates in your email box:
I have been quite busy lately so I have been relying more on cooking short-cuts, such as this ready-made four cheese ravioli, to prepare dinner in a jiffy. I discovered them after my friend used ready-made tortellini to prepare a gourmet and fuss-free lunch for us.
I made my favourite pesto as the sauce for the ravioli and the result was blissfully delicious. You can also use tortellini for this recipe.
Ravioli Pesto Recipe
This is a gourmet meal you can whip up quickly and easily using ready-made ravioli. You may also use tortellini in place of ravioli.
Ingredients:
140 grams refrigerated ravioli
30 grams sweet basil leaves
20 grams toasted pine nuts
1 clove garlic peeled and sliced
3/4 cup grated parmesan cheese
60 ml extra virgin olive oil
sea salt and freshly cracked black pepper to taste
1-2 fresh basil leaves shredded by hand garnishing
Directions:
Cook ravioli in salted, boiling water according to package instructions. Drain and set aside. Reserve half a cup of pasta water.
To make fresh pesto, blend basil, pine nuts, garlic and cheese until well combined. With the blender motor still running, gradually pour in extra virgin olive oil to achieve a thick, smooth consistency. If the pesto becomes too thick, add more oil. Alternatively, use a mortar and pestle to pound the ingredients. Season with salt and pepper, or more cheese to taste.
Mix cooked ravioli, pesto and about 1-2 tbsp pasta water; stir until well combined. Season to taste with salt and pepper. Garnish with shredded basil leaves before serving.