Chicken Caesar Salad Wrap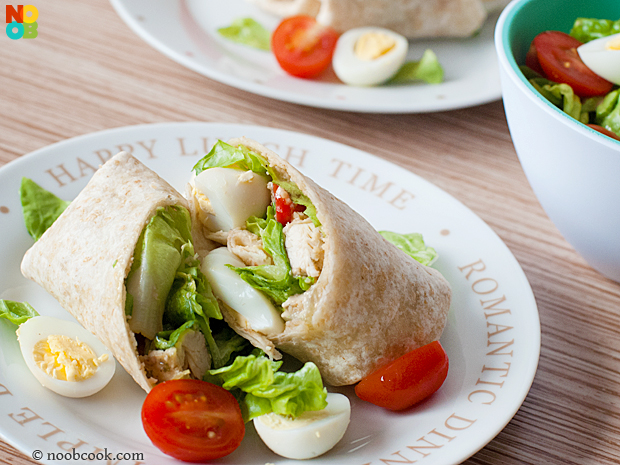 Don't Miss a Recipe!
Receive new recipes updates in your email box:
Caesar Salad, an Italian salad of romaine lettuce dressed in an anchovy-olive oil dressing, is a hit on our family dinner table. Besides enjoying it as a salad, we also love to wrap it in tortilla for a more complete meal – we usually serve one bowl of Caesar salad with one chicken Caesar salad wrap.
Since our dinner is usually rice or noodles based, having a salad wrap is a much welcome change of taste for us.  Although I didn't add it that day, you can also add home-made croutons for extra crunch and deliciousness.
Chicken Caesar Wrap Recipe
This is a healthy, deliciously wholesome and relatively low-carb chicken Caesar salad wrap.
Ingredients:
200 grams chicken fillet boneless and skinless
1 tbsp extra virgin olive oil
1/2 tbsp dried oregano
4 tortilla wraps normal or wholemeal
150 grams romaine lettuce leaves torn to bite-sized pieces; washed and spinned dry
8 cherry tomatoes halved
4-6 hard boiled quail eggs halved; or use one hard-boiled egg, sliced
salt & pepper to taste
(A) Caesar Salad Dressing
20 grams anchovies fillets including olive oil
1 tbsp Worcestershire sauce (worchester sauce)
1/2 lemon juice and zest
2 garlic cloves peeled
2 tbsp mayonnaise
1/4 cup grated parmesan cheese
50 ml extra virgin olive oil
Directions:
Drizzle chicken with olive oil and season with salt, pepper and oregano. Arrange one layer (do not stack chicken) in the center of a piece of a piece of parchment paper measuring roughly 10" (25cm) by 14" (35cm). Wrap to form a neat parcel.
Place parcel on a baking tray and bake at preheated oven of 200°C for about 15 minutes. Carefully unwrap chicken parcel (beware of steam coming out of package). Discard liquid collected. Alternatively, you may pan-fry or grill the chicken on the stove top. Cut chicken to even slices and set aside.
Blend ingredients for salad dressing (A) to a fine consistency in a blender. If you don't have a blender, you can use a fork to mash up the anchovies and then use a mortar and pestle to pound the dressing by hand.
Warm tortilla wraps in an un-oiled, heated pan for about 1 minute on each side.
To make the wrap, arrange sauce and fillings (chicken, lettuce, eggs and tomatoes) in center. Fold three sides toward the center and roll up the wrap. Cut into two. Click here for step-by-step wrapping photos.