Imitation Shark Fin Soup (Fake Fin Soup)
Chinese New Year is a time when families celebrating the occasion get together and indulge in some serious feasting. Nowadays, with society getting more affluent, the food is also getting more elaborate – for example, a luxurious pot of shark fin soup is no longer a rare sight on the dining table. I have avoided shark fin soup due to the cruelty of shark finning and how it had led to a drastic decline in the shark population. I have nothing against those who consume this Chinese delicacy though, nor do I want to be hypocritical about it since I'm not a vegetarian.
Don't Miss a Recipe!
Receive new recipes updates in your email box:
However, since I have full control over what I cook at home, I prefer to cook imitation shark fin soup where the fake fin is essentially made with gelatin (see picture above).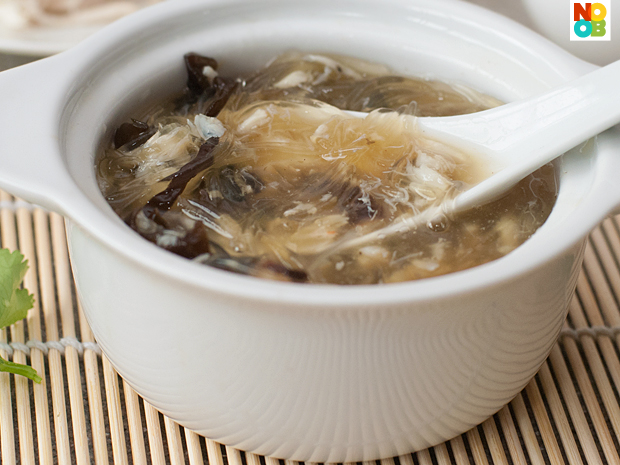 For those who have tasted the real shark fin soup before, you may agree with me that the fin is largely tasteless, with the flavour contributed by the rich soup broth.
See Also:
While imitation shark fin may lose out slightly in terms of texture to the real thing, the firm texture of the imitation fin still gives it a good bite. Best of all, it cost a tiny fraction of the price (I bought a packet for less than S$10) and it is a much kinder option you can consider amidst this festive season.
Imitation Shark Fin Soup Recipe
I bought the imitation shark fin (frozen) at NTUC, Singapore. You may only find it at selected (bigger) outlets, or seasonally (during Chinese New Year).
Ingredients:
boiling water
700ml rich chicken stock either instant (tetra-pak) or home-made
4 dried black fungus soaked in hot water to soften, discard the hard part on the centre underside of the fungus and sliced thinly
4 fresh shiitake mushrooms stalks trimmed and caps sliced thinly if using dried Chinese mushrooms, soak in hot water to soften before use
250g cooked crab meat if using frozen, thaw before use
cornstarch solution combine 2 heaped tbsp corn flour with 4 tbsp water
salt or light soy sauce to taste
Serving Suggestions
coriander
white pepper powder
black vinegar
blanched beansprouts optional
shredded chicken boil a piece of chicken breast for about 15 minutes, shred when the chicken is cooled
Directions:
Place imitation shark fins in a wide and deep plate. Blanch the fins by pouring boiling water over it and leaving it covered for about 5 minutes. Discard water, drain the fins and set aside.
Bring chicken broth to boil in a pot. Add sliced black fungus and sliced mushrooms, and simmer for about 5 minutes.
Add crab meat and blanched sharks fin. Bring to a simmer for another 3 minutes.
Before using cornstarch solution, stir again to dissolve cornflour in the mixture. Slowly pour in the cornstarch solution while stirring until you reach the consistency desired. For thicker and starchier soup, add more cornstarch solution; for a more watery and soupy consistency, add more broth. Season with salt, light soy sauce or other seasonings if needed.
Dish the soup to serving bowls and serve on the side – coriander, white pepper, black vinegar and optionally, blanched beansprouts and shredded chicken.